FULL CLINICAL TRIAL MANAGEMENT
Meditrial is a full-service CRO partner with a remarkable record of 100% success in assisting clients to execute studies in medical centers of excellence throughout Europe.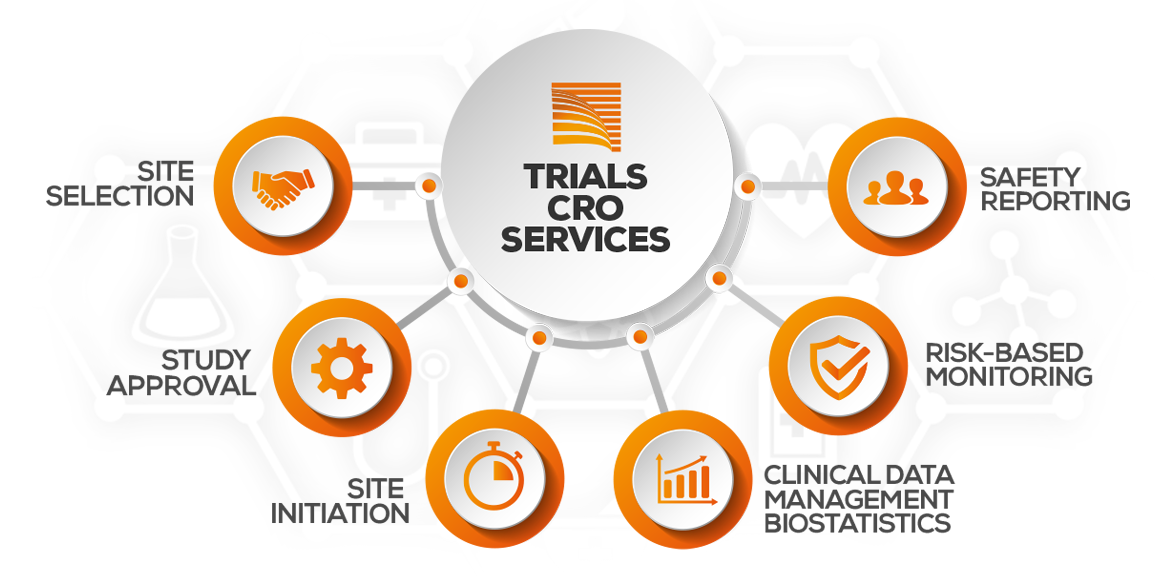 Site Selection
---
Prior to the initiation of the clinical trial, the qualifications of the principal investigator and adequacy of the site must be verified and documented in an investigation site selection report. Sounds complicated? No worries, Meditrial knows how to select the right site for your trials.

Study Approval
---
Obtaining an approval for your study could be tricky if you get lost in submitting relevant study documents to competent authorities and ethic committees. Meditrial will follow every step for you from start-up study to completion.

Site Initiation
---
Our specialized team can define the activities required for the initiation of investigation sites in accordance with EN ISO 14155. Our monitoring plan seeks to check and document regulatory approval, to complete site opening procedures and prepare for enrollment of the first patient.

Clinical Data Management Biostatistics
---
Paper CRF are history now, everybody knows that. But we know that not all e-platforms are suitable for clinical data. Our electronic databases allow different types of data review to be performed while carrying out a study. Data review activity can support study data integrity by analysis of results trends and data collection status.

Risk-based Monitoring
---
There is no clinical trial without risks. Meditrial team will assess and define a risk plan associated with medical devices subjected to clinical investigations, in order to proactively react to those risks and mitigate the effects.

Safety Reporting
---
Meditrial team is highly skilled to perform procedures reporting modalities for Adverse Events (AEs), Serious Adverse Events (SAEs) and Device Deficiencies during pre-market clinical investigations of Medical Devices and Active Implantable Devices.
GLOBAL REGULATORY
 US SERVICES
US Agent
FDA Regulatory Roadmap
FDA Submission & Meetings
Breakthrough Device Designation
513(g) Classification
Premarket Notification | 510(k)
De Novo Classification
Request for Designation | Pre-RFD
Investigational Device Exemption (IDE)
Pre-Market Approval (PMA)
Humanitarian HUD | HDE
MDDT | DDT Qualification
Reimbursement Coverage
 EU SERVICES
European Authorized Representative
UK Responsive Person
Swiss Representative
In Country Registration | EUDAMED
CE Mark Consulting
MDR | IVDR Compliance
Clinical Evaluation Report
Performance Evaluation Report
Risk Management
Labeling | eLabeling
Certified Translation
Privacy GDPR Compliance
Vigilance | Recalls
 INTERNATIONAL
Canada | Latin America
New Zealand | Australia
Israel | Japan | China | Korea
CLINICAL RESEARCH
 TRIAL DESIGN
Early Feasibility Studies EFS | FIH
Full Clinical Trial Management
Clinical Study Design | Protocol
Clinical Development Plan
Real Word Evidence | Registries
R&D Management Consulting
Clinical Study Dossier
 TRIAL EXECUTION
Site Selection & Qualification
Clinical Trial Submissions
Pivotal | Randomized | Adaptive
Trials
 SITE EFFECTIVENESS
Patient Recruitment
Site Relationship
Patient Retention
Investigator Training
On-site & Remote Monitoring
GCP Inspections
 SAFETY MANAGEMENT
Vigilance Management
DSMB & CEC
Online Adjudication
 EVIDENCE GENERATION
Biostatistics & Analysis Plan
Data Management
Real Time Data Analytics
Performance Management
Medical Imaging Core Labs
Value Based Outcomes
PRODUCT DEVELOPMENT
 NON CLINICAL PATHWAY
Technology Assessment
Market Analysis
Development Strategy
Usability | UX Processes
Human Factors
Pre-Clinical Testing Plan
Biocompatibility Strategy
Non Clinical/Animal Program for
FDA
Safety Profile for IND or IDE
Non Clinical Protocols
Advisory for Lab Test Execution
Medical & Technical Writing
Regulatory Due Diligence Support
 KEY PRODUCT AREAS
Healthtech | Medtech | IVD
Combination Products
Biotech
Wearables
SaMD | AI/ML | AR/VR
Robotics
 QUALITY ASSURANCE
QMS | eQMS Setup and Support
FDA QSIT, ISO 13485, ISO 9001
CMDCAS Canada
TGA Australia
MDSAP
Design Control
Process Validation
Technical Documentation
EU MDR | VDR
Post-Market Surveillance