ELEVATE THE FUTURE OF HEALTHCARE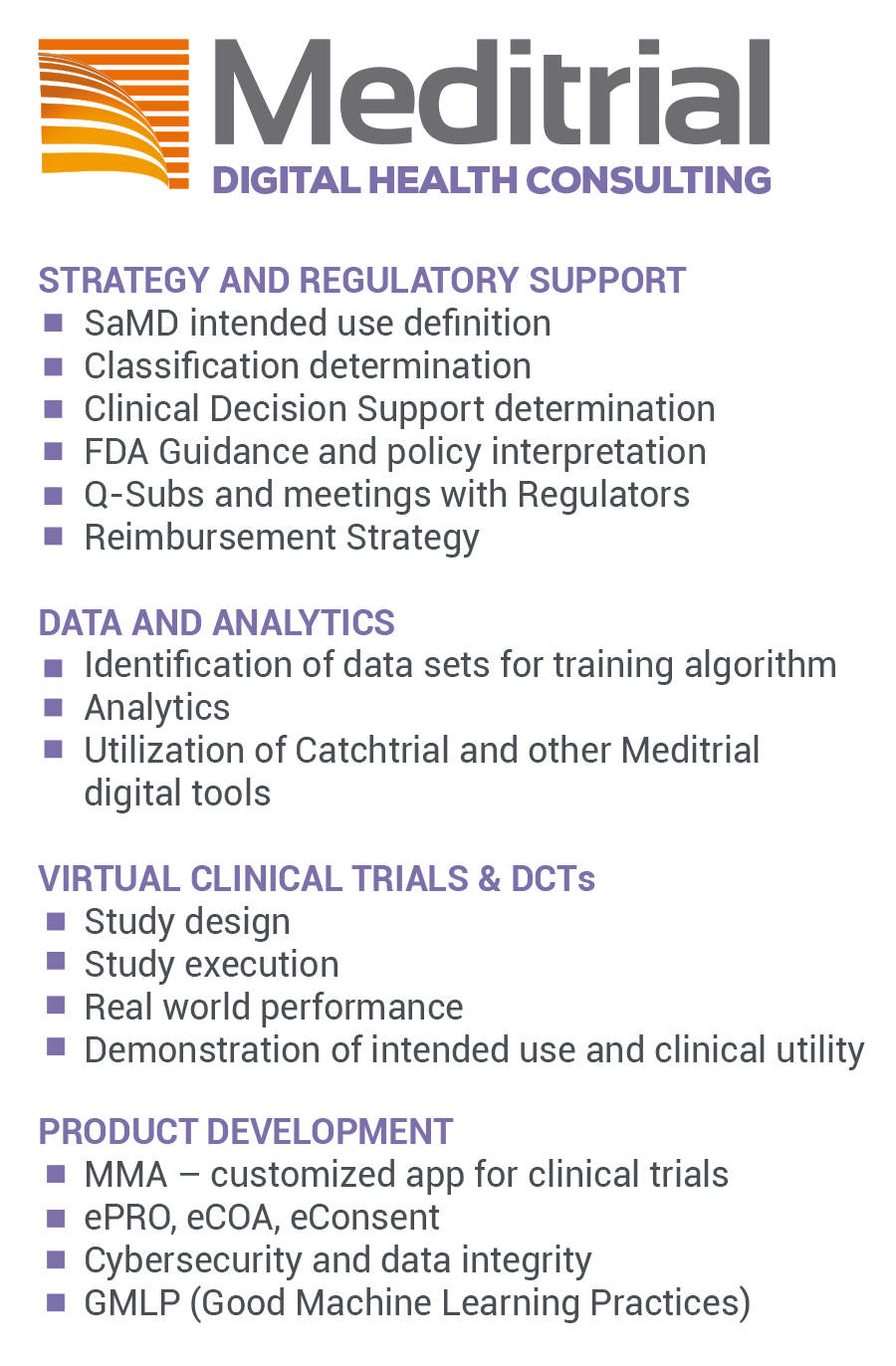 DIGITAL HEALTH EXPERTS
YOUR DOORWAY INTO THE DIGITAL HEALTH UNIVERSE
Meditrial partners with digital health companies to develop effective regulatory and clinical strategies and tools to support market access.
Digital Health is a broad category that encompasses Digital Medicine, which in turn includes Digital Therapeutics. Products in these categories make different levels of claims and therefore have different levels of risk. As such, they have varying requirements for clinical evidence and regulatory oversight.​ In parallel industries such as transportation, higher levels of research and regulation are required for higher risk functions (e.g., operating autonomous vehicles) than lower risk functions (e.g., bluetooth enabled hands-free car kits). Similarly, end users and clinicians should expect that higher levels of evidence and oversight are required for digital health products that make higher risk claims.​
Meditrial can assist you in demonstration of real-world performance or your device through smart and efficient study design and execution.
You can leverage Meditrial's medical app tools to capture critical clinical data for your device or drug product.
HOW IT WORKS
WE ENABLE DIGITAL HEALTH INNOVATORS TO CREATE WAVES OF DISRUPTION WITH EXPERT ANALYTICS, ADVANCED TECHNOLOGIES AND DEDICATED PROGRAMS
Comprehensive, Flexible, and secure EDC offering value-added data management
Transfer large image data sets to Core Lab with automated tracking
Collect data directly from study patients via mobile applications (ePRO)
Elevate the analysis for healthcare providers with AI and transform data into knowledge
Get electronic consent, because paper consent is no longer enough (eConsent)
From the back office to the doctor's office, we help clients deliver more effective, efficient and affordable healthcare with Insight Driven Health.
Immersive education for your staff covering a wide range of strategies, case studies and best practices.