The ANSM, in conjunction with the DGS and the DGOS, offers practical solutions for implementing the necessary adaptations for clinical trials in progress in the current situation. The solutions proposed by the authorities have been established in order to best respond to the exceptional health situation that we know in a logic of optimal efficiency and simplicity without ever jeopardizing the safety of research participants.
Meditrial manages several studies in France and has direct connections with Investigators, hospitals, ANSM  and local Ethics Committees (CPP). Please feel free to contact us for advice and support.
Information for ongoing clinical trials can be found here.
These adaptations are considered as an exception and all clinical trials will revert to the conditions of follow-up prior to the end of the health crisis. Any modification that the promoter wishes to establish as permanent must be submitted for authorization to the authorities (ANSM and / or CPP).
In the context of exceptional measures, it remains essential to ensure compliance with good practices. Particular emphasis should be placed on the importance of optimal traceability of any deviations from the protocol induced by the epidemic context and of the adaptations implemented.
MSA: substantial modification for authorization
MSI: substantial modification for information
MUS: urgent security measure
NSM:  questions.clinicaltrials@ansm.sante.fr  by mentioning COVID-19 in the subject of your message
DGS:  ccs-pole-recherche@sante.gouv.fr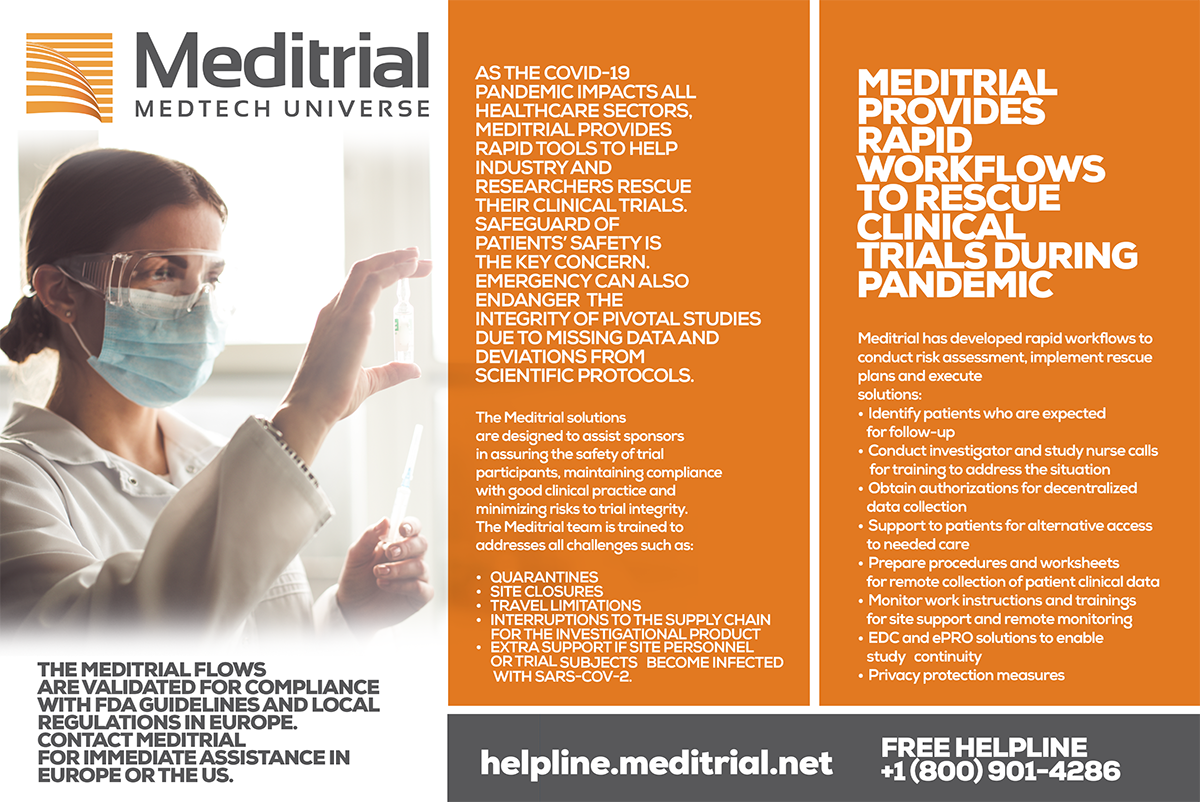 Meditrial has developed rapid workflows to conduct risk assessment, implement rescue plans and execute solutions for ongoing clinical trials.
Meditrial workflow allows rapid compliance:
Contact Meditrial for immediate assistance in Europe or the US. Free Helpline +1-800-901-4286 helpline@meditrial.net