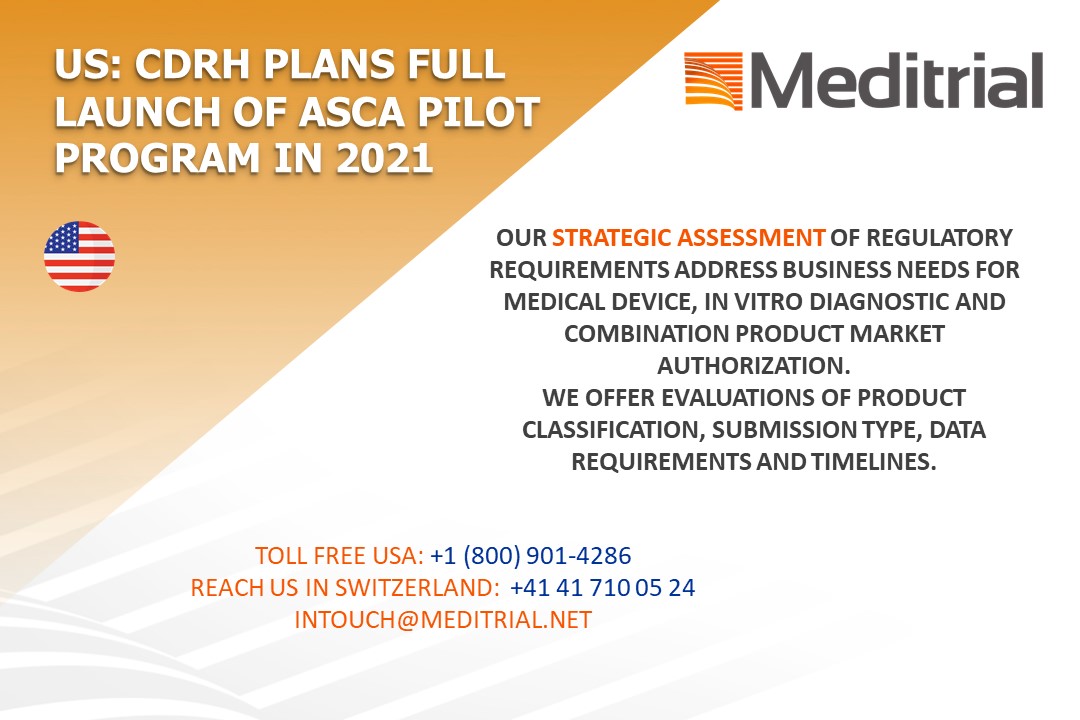 The US Food and Drug Administration (FDA)'s Center for Devices and Radiological Health (CDRH) annouced the full launch of a pilot conformity assessment program in 2021.
Contact Meditrial to know about our strategic assessments of regulatory requirements to address business needs for medical device, in vitro diagnostic and combination product market authorization in the US. We offer evaluations of product classification, submission type, data requirements and timelines. Read more!
Why the FDA Is Launching the ASCA Pilot
"The ASCA Pilot supports the FDA's public health mission by providing increased confidence in testing results from ASCA-accredited testing laboratories. The ASCA Pilot:
Potentially decreases the burden of individual premarket submissions when manufacturers rely on testing completed by ASCA-accredited testing laboratories
Incorporates existing international conformity assessment standards and practices where practical
Was created using input from experts across the medical device manufacturing and standards conformity assessment communities
The voluntary ASCA Pilot is intended to enhance product reviewers' and device manufacturers' confidence in medical device testing, which should decrease the need for the FDA to request additional information regarding testing methodologies when a premarket submission includes declarations of conformity to an FDA-recognized consensus standard eligible for inclusion in the ASCA Pilot. Ultimately, the ASCA Pilot is intended to help the FDA ensure patients have timely and continued access to safe, effective, and high-quality medical devices."
"In 2021, the ASCA Pilot staff are committed to advancing the full operationalization of the ASCA Pilot," with a goal of bringing more qualified accreditation bodies and testing laboratories into the pilot, while encouraging sponsors to use the ASCA device submission pathway for marketing authorization applications.
For more details, please see the Accreditation Scheme For Conformity Assessment (ASCA) document from FDA.
Contact Meditrial for immediate assistance in Europe or the US.