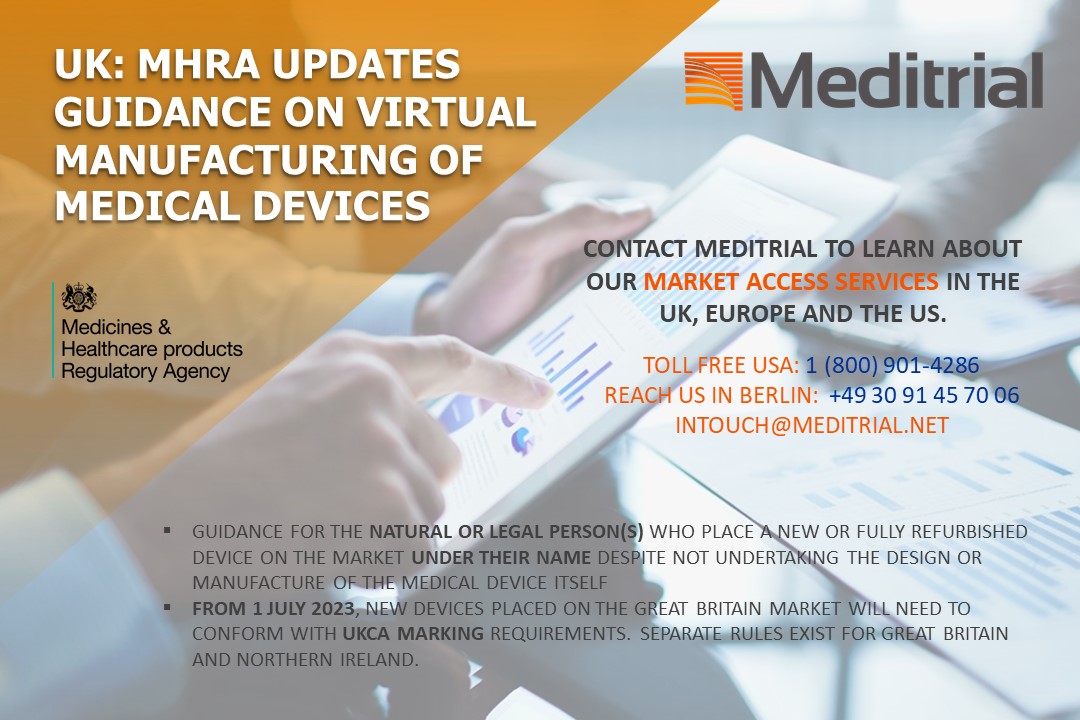 The UK MHRA has updated a guidance on virtual manufacturing of medical devices.
"A virtual manufacturer is an organisation that fully sources its own named product from another company […] which has designed and manufactured an identical UKCA/CE/CE UKNI marked product. By placing their own name and address on the product, the virtual manufacturer takes on the legal responsibilities for the medical device and is therefore regarded as the manufacturer […]" Note that in practice there is no difference in the regulatory requirements applying to a manufacturer and a virtual manufacturer
Contact Meditrial to learn about our market access services in the UK, Europe and the US. Find out more!
The updated guidace introduces the following changes:
"Two new product markings, the UKCA mark (which is valid in Great Britain) and the CE UKNI marking (which is required in Northern Ireland where conformity assessment has been conducted by a UK Notified Body) have been introduced for certain goods, including medical devices, being placed on the UK market.
The MHRA can designate UK Approved Bodies to conduct assessments against the relevant requirements for the purpose of the UKCA mark. CE marking will continue to be recognised in Great Britain (England, Scotland, Wales) until 30 June 2023. From 1 July 2023, new devices placed on the Great Britain market will need to conform with UKCA marking requirements. Separate rules exist for Great Britain and Northern Ireland."
For more details, please see the official guidance from MHRA.
Contact Meditrial for immediate assistance in Europe or the US.