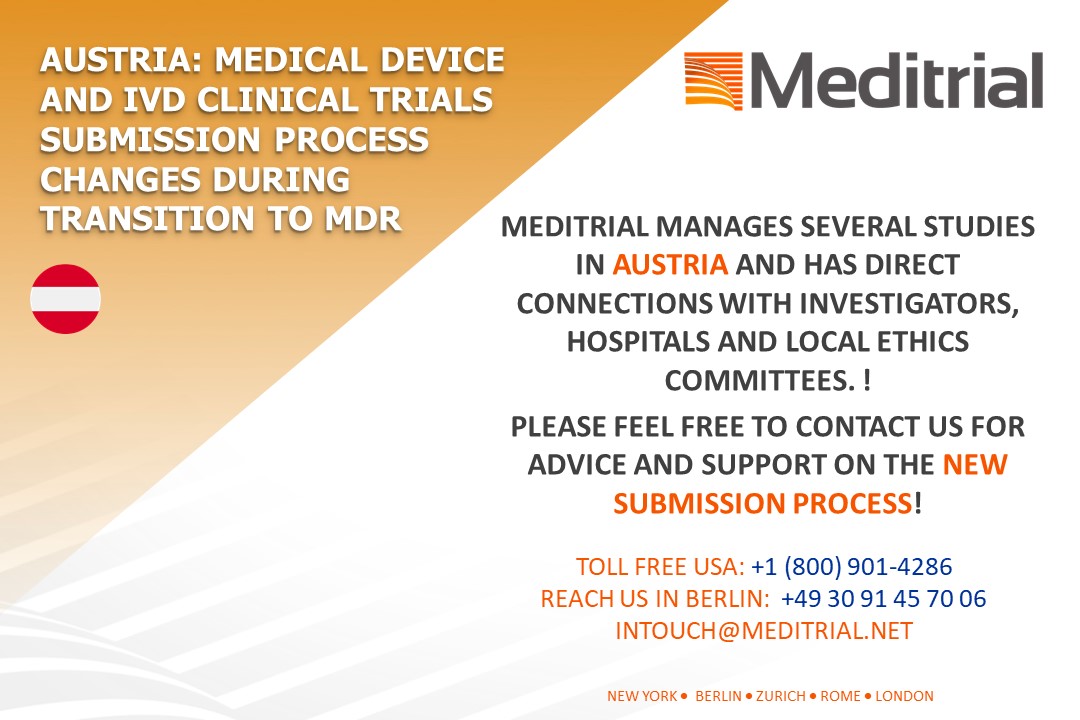 The Austrian Federal Office for Safety in Health Care (BASG) gave information on a new validation process during the transition to the MDR which will come into force in May 2021.
Meditrial manages several studies in Austria and has direct connections with investigators, hospitals and local ethics committees. Please feel free to contact us for advice and support on the new submission process!
From April 1, 2021 to May 25, 2021 at 6 pm., the following rules will apply to clinical investigations of medical devices as well as performance studies of in-vitro diagnostics:
Applications will not be processed if:

missing or corrupted BASG application form (PDF and XML);
no final positive ethics vote available for the overall study;
clinical investigation plan, investigator's brochure or patient information(s) are missing or do not comply with the versions in the final ethics committee opinion.

If application file is complete and eligible for processing by BASG, the applicant will receive feedback regarding the application within 14 days after email confirmation of application file receipt by BASG.
In case the applicant receives a deficiency letter following the application, 14 days are granted for the applicant to correct or submit missing documents.
If no response is received within 14 days or if the application cannot be completed, the application will be rejected.

Starting May 26th, 2021 at 6 am., applications for clinical studies must be submitted via the MDR regulation.
For more details, please see the official communication from BASG.
Contact Meditrial for immediate assistance in Europe or the US.