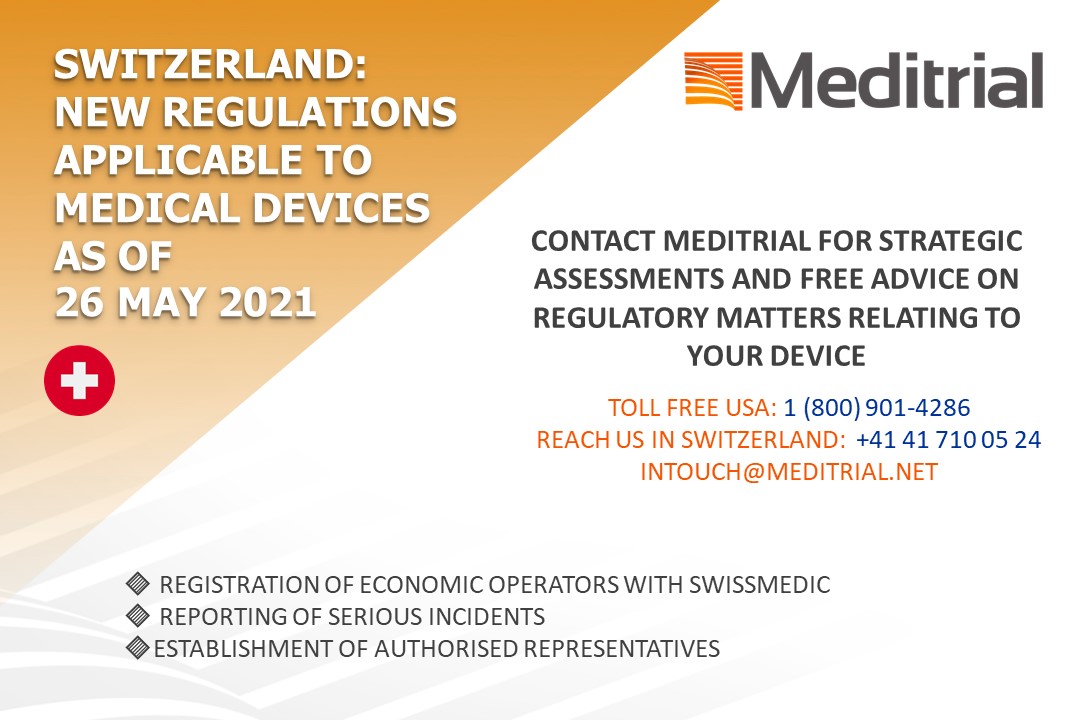 Additional provisions have been adopted for the new Medical Device Regulation (MedDO) in Switzerland and enter into force on 26 May 2021. This action was taken to offset the negative consequences of the absence of the MRA update and ensure that the Swiss population is sufficiently supplied with safe medical devices.
Partner with Meditrial to comply with the new requirements!
Since 2001, Switzerland has regulated medical devices in the same way as the EU and has been integrated in the European market surveillance system and European internal market for medical devices via the MRA. Now, the country has completely revised its medical devices legislation so that it closely approximates to the new EU provisions.
To react to the loss of barrier-free access to the single market and to resources such as the EUDAMED database, the swiss MedDO has been amended. This amendment permits devices certified in the EU to continue to enter Switzerland to avoid supply interruptions. There also other requirements added, such as registration of economic operators with Swissmedic, reporting of serious incidents and the establishment of authorised representatives for manufacturers based outside Switzerland.
To avoid jeopardising a sufficient supply of medical devices to Switzerland, the Federal Council has set lengthy transitional periods of over one year in most cases.
As of 26 May 2021, the existing MedDO is being terminated and the documents relating to the old law are being replaced by new versions on the Swissmedic website. Changes and newly available documents will be communicated continuously.
For more information read the Swissmedic notice on new regulations applicable to medical devices as of 26 May 2021.
Read the European Commission notice to Stakeholders.
Contact Meditrial in Switzerland for free advice on regulatory matters relating to your medical devices or if you need a European representative.
Tel. +41 41 710 05 24