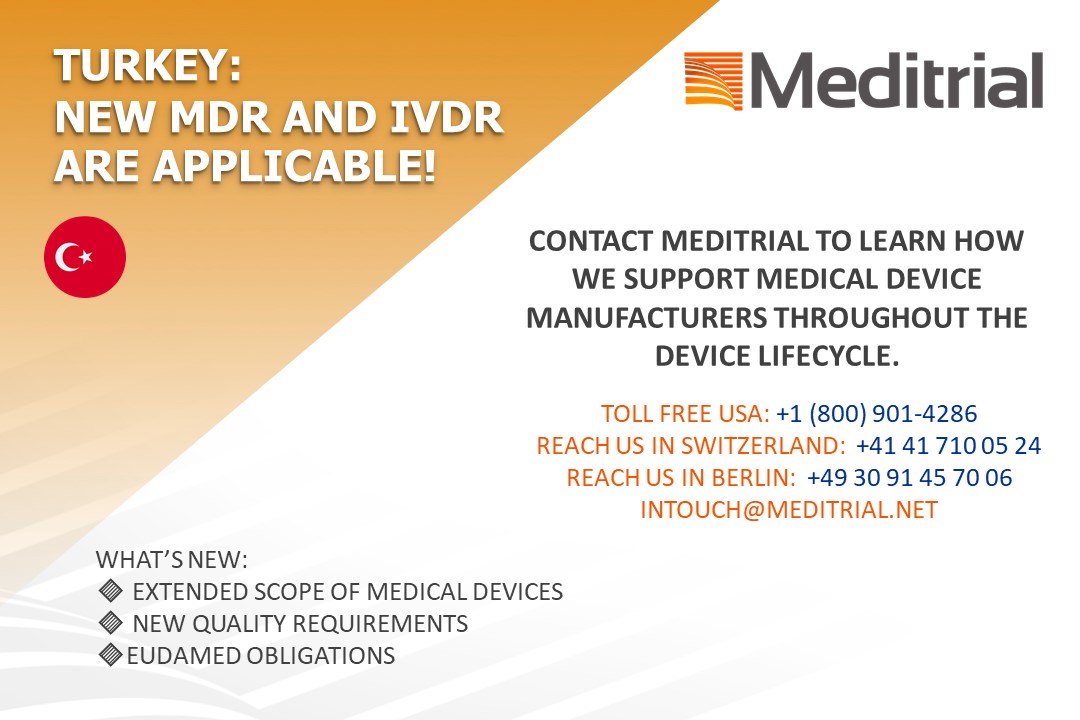 The Medical Device Regulation (MDR) and the In vitro Diagnostic Medical Device Regulation (IVDR) were published in Turkish Official Gazette No. 31499 on 2 June 2021.  The Regulation, which is fully harmonized with European Union legislation, aims to improve the quality of medical devices and ensure safer use by medical device users and patients. Text in English is available here.
The dates of application are the same as in the EU: 26 May 2021 for the MDR and one year later for the IVDR.
Meditrial helps medical device manufacturers to comply with new MDR requirements. Contact us today!
The new regulation brings about certain changes.
Extended scope of medical devices.
Devices, such as contact lenses, liposuction equipment, products applied on the human body with invasive surgical equipment (except for tattoo and piercing equipment), products for facial and other types of dermal filling, laser equipment and brain simulation equipment will be considered medical devices. The obligations for the above mentioned products under the new regulation will apply six months after the publication of the EU Commission' common specifications. Until then, the current rules will continue to apply.
Device manufacturers are obliged to establish a quality management system which must include a clear strategy for compliance with the Regulation, resource management for selection of suppliers and contractors, clinical evaluation and risk management. The quality management system must also include a market surveillance strategy that addresses the post-marketing period. Therefore, product manufacturers must monitor product safety and define an appropriate policy on preventive and corrective measures to be adopted in the event of safety problems.
Economic Operators, manufacturers, Authorized representatives and importers will register in EUDAMED.
Contact Meditrial for free advice on regulatory matters relating to your medical devices. With us you will be the first to comply with new MDR requirements!
Reach us in Switzerland: +41 41 710 05 24