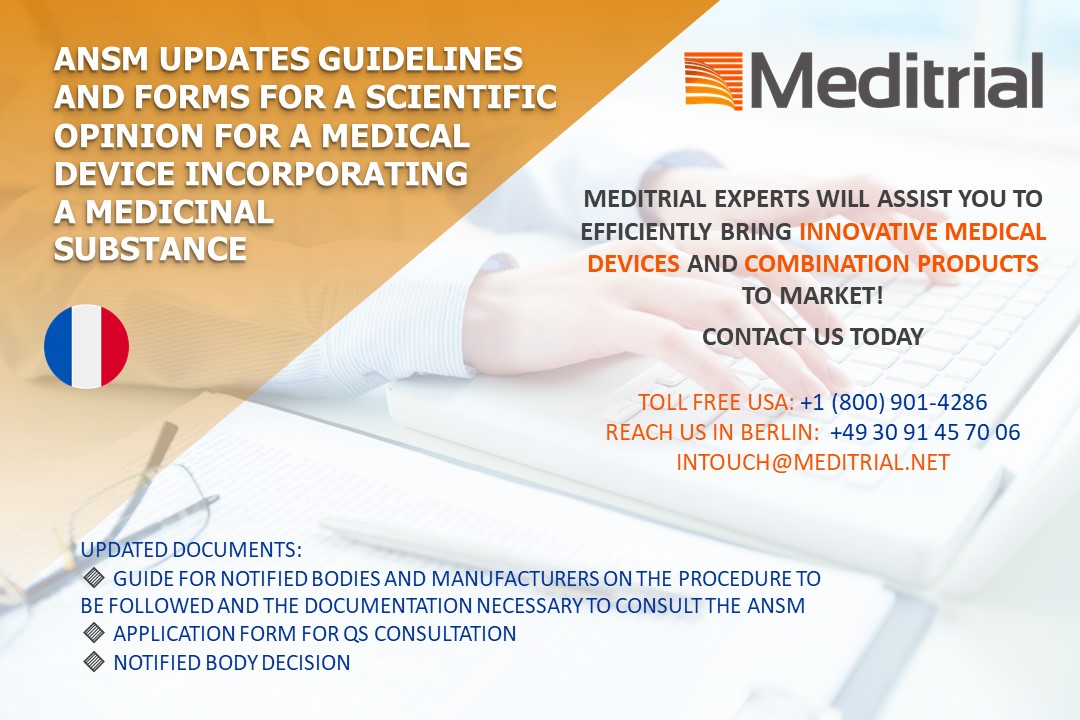 The French National Agency for Medicines and Health Products Safety has updated its Guidance and templates for consultation for medical devices with ancillary medicinal substances.
Scientific opinion must be requested for any new medical device or device-drug combination product, even if the medical device taken in isolation is already CE marked or if the medicinal substance already has a marketing authorization.
Meditrial team of medical, regulatory and technical experts will assist you to efficiently bring innovative medical devices and combination products to market.  Please feel free to contact us for advice and support.
"When a medical device incorporates a medicinal substance as an accessory, the notified body (responsible for issuing the EU certificate of conformity leading to the CE marking of the device) must call on a competent authority in the field of medicinal products for the evaluation of the quality and safety of the active substance, as well as the benefit / risk profile associated with its incorporation into the device.
The scientific opinion delivered by the competent authority or by the European Medicines Agency will take into account the data relating to the usefulness of the incorporation of the substance assessed by the notified body.
Note, this procedure only applies to medical devices when the activity of the drug substance is accessory, that is to say when the substance is not responsible for the main activity but acts on the human body by an action accessory to that medical device."
The updated forms (listed below) can be found on the ANSM website in English and French language version:
Guide for notified bodies and manufacturers on the procedure to be followed and the documentation necessary to consult the ANSM (07/20/2021)
Application form for QS consultation (20/07/2021)
Notified body decision (07/20/2021)
For more details, please see the official communication from the ANSM (in French language).
Contact Meditrial for immediate assistance in Europe or the US.