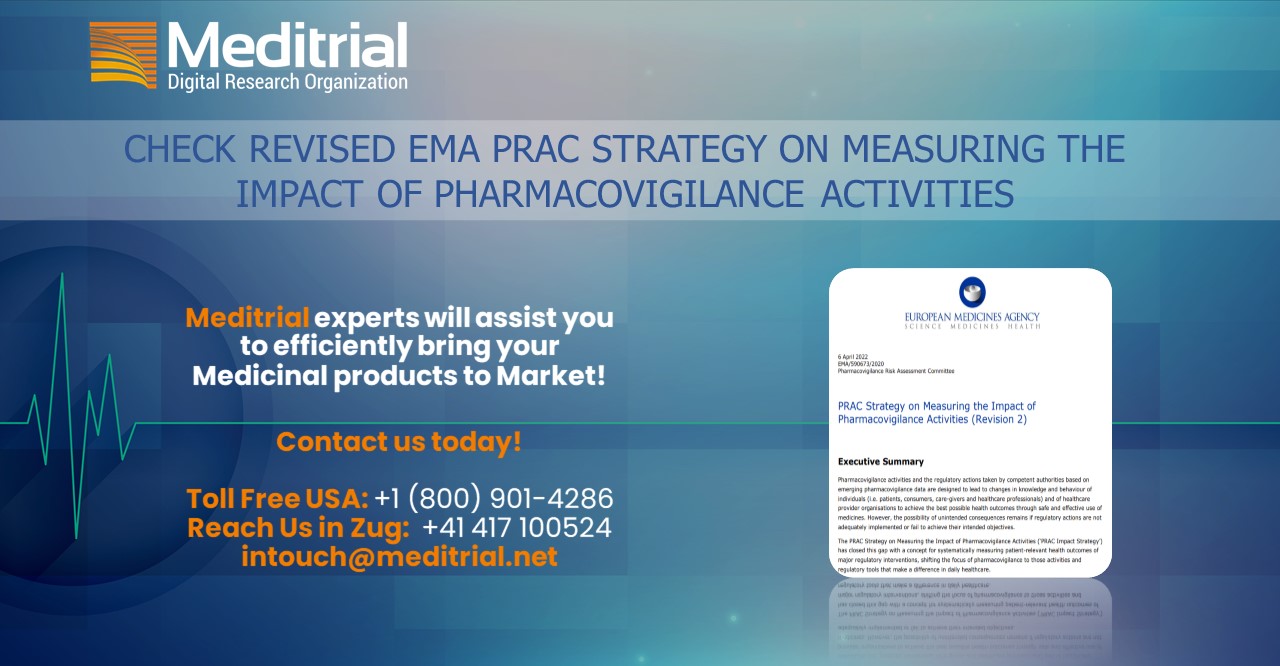 In 2017, PRAC established a strategy for measuring the impact of pharmacovigilance activities, and EMA has published a second revision in April 2022.
The second revision of the PRAC Impact Strategy integrates the achievements over a five-year period since its launch in the four activity areas:
The PRAC Strategy (EMA/790863/2015) focusses on 4 key areas:
Effectiveness of pharmacovigilance processes
(e.g., ADR reporting, signal detection & management, PAS)
Effectiveness evaluation of risk-minimisation measures
(e.g., measures following major referrals)
Enablers of effective pharmacovigilance and stakeholder engagement
Analytical methods for impact research
(e.g., modelling methods for measurement of impact on health)
"It describes the conceptual approach, principles and stakeholders, as well as the processes for prioritisation and conduct of impact research implemented by the EU Medicines Regulatory Network (EMRN) to systematically investigate the public health impact of major regulatory actions and to determine potential unintended consequences in daily healthcare that may counteract risk minimisation efforts.
The revised strategy also includes:
new information on how to prioritise and carry out impact research
a review of industry-sponsored post-authorisation safety studies evaluating the effectiveness of risk-minimisation measures
The PRAC has published a checklist with criteria to prioritise collaborative impact research for identifying and selecting safety topics discussed at the PRAC which require the generation of data to monitor the impact of regulatory interventions."
Checklist for prioritisation of EU regulatory network collaborative impact research.
Read more in the EMA document.
Using the Industry's best practice and high- end expertise, Meditrial's specialized team offers regulatory support for compliance with European regulations and applicable requirement.